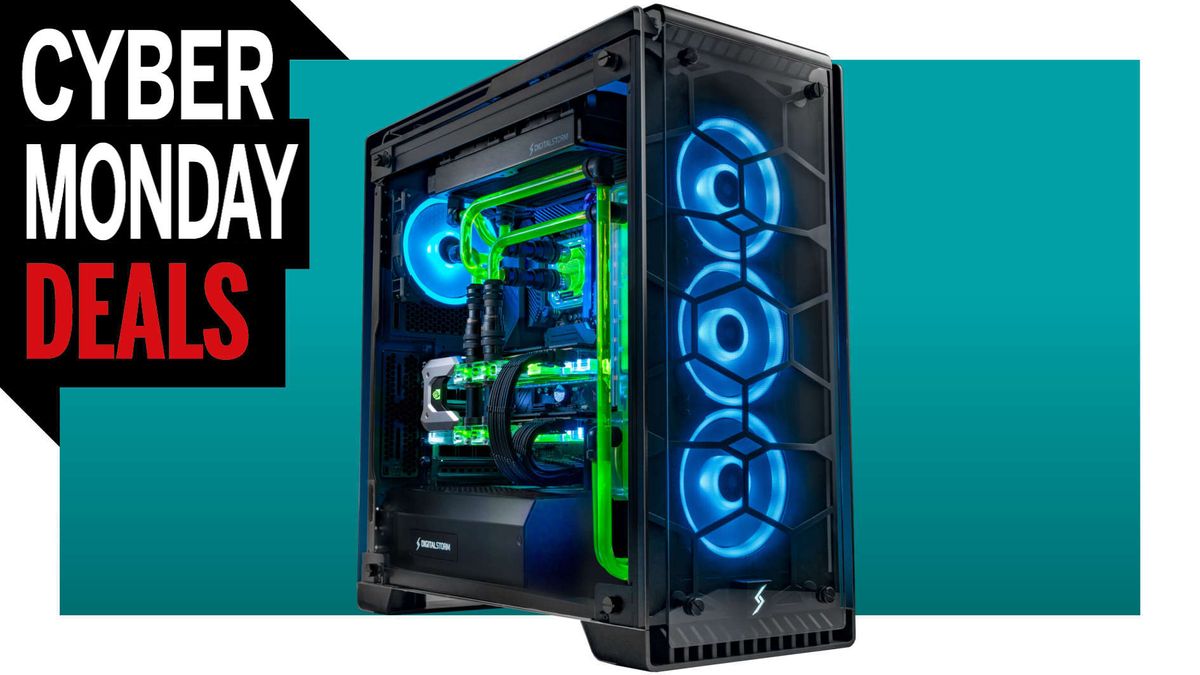 The Cyber Monday gaming PC deals have arrived, and we're expecting fresh deals to drop as we move through to the rest of Cyber Week, too. While you may have been worried that Black Friday would have seen all stock of RTX 30-series gaming rigs perish under the harsh glare of rampant consumerism, the good news is that it's still totally possible to pick up a great gaming machine, with a healthy discount right now.
The key thing to look out for when buying a pre-built PC at this time of year will be delivery date, especially if you want it to arrive by Christmas. Some PCs may have some money knocked off, though they may not be ready to ship until next year. So just make sure to triple-check when your new PC purchase is planned to turn up.
There are gaming PC deals that will be with you far quicker than that, if you don't feel the need to customize them to your needs. The iBuyPower RDY prebuilt systems can ship out in a matter of days, and will still get you some of the best CPU and GPU combinations you will find today.
Just bear in mind that we're seeing a lot of these Black Friday and Cyber Monday deals set to end on Monday, November 29. That means you probably don't want to dawdle if you want to save some cash, and we can help make sure you find a gaming rig that's actually on sale.
This year we've been especially focused on finding the best gaming PC deals with RTX 3060s, 3070s, and 3080s, and figuring out which ones come in at the best prices. For a better idea of what prices are good and which are bad, take a look at this crib sheet on gaming PC pricing. If you just want the deals we recommend, take a look for both US and UK deals below.
Where are the best Cyber Monday Gaming PC deals?
Cyber Monday gaming PC deals in the US
Our mysterious deals bots are constantly searching the internet for the best prices on gaming PCs and regularly update the list below multiple times a day.
Cyber Monday gaming PC deals in the UK
What should I look for in a Cyber Monday gaming PC deal?
We've got a handy crib sheet to help you spot whether a gaming PC is really a deal, so that's well worth checking out.
To the surprise of no one, trying to secure yourself a new GPU like an RTX 3080 or a Radeon RX 6600 has to turn into a full-time job for some folks. Though, we've noticed throughout the year that the only reliable way to grab yourself one of these cards was to bite the bullet and buy yourself a new prebuilt PC.
More people have caught on to this strategy, which has caused long lead times for shipping out these prebuilt gaming rigs. Despite this, it's still your best chance to get yourself a fancy new video card by Christmas.
So, if you're dead set on getting a PC with this hard-to-get hardware, you may have been more focused on stock than a discount. Since demand is so high, we don't expect to see big markdowns on gaming PCs with an RTX 30-series card. But, if a retailer is promising a week to two ship time instead of two months, you should probably jump on the deal.
If the focus is the best price, keep on an eye for any deals offering last-gen hardware like Zen 2 or Intel 10th Gen CPUs. Even Nvidia RTX 20-series GPUs. These are still pretty solid gaming machines and can easily be upgraded down the road if and when stock returns to normal for PC components.
As ever when hunting for bargains, focus on what you need, and don't be swayed to grab a deal just because it's cheap.